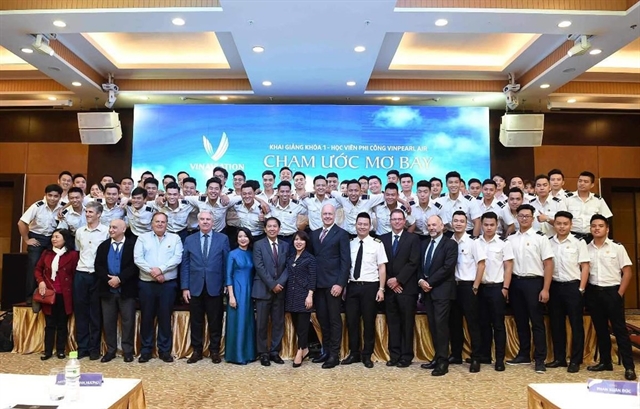 Vinpearl Air teachers and students of the first pilot training course of VinAviation School. — Vingroup Photo
HÀ NỘI — Việt Nam's largest conglomerate Vingroup JSC on Tuesday announced that it is officially withdrawing from the air transport business.
The announcement was made after the assessment of Vinpearl Air's project was submitted to Prime Minister Nguyễn Xuân Phúc for approval by the Ministry of Planning and Investment.
This means Vinpearl Air will not be able to take off. Vingroup did not expand on the future of this aviation project in the announcement, but said it wants to focus maximum resources on the strategic goal of technology and industry development.
Vingroup said this decision will not affect its pilot training segment undertaken by VinAviation School. The ongoing training course is being maintained with all commitments made to the students.
Vingroup confirmed that it will continue to participate in construction and aviation infrastructure improvement projects nationwide.
According to the Vinpearl Air dossier, the airline was supposed to be based at Nội Bài International Airport with total investment of VNĐ4.7 trillion (US$202.3 million).
It was scheduled to begin operation in July 2020, if approved by the Prime Minister. The number of aircraft in the first year was six narrow-body planes with 150-220 seats. On average, an additional six aircrafts were due to be put into operation annually. The airline was expected to reach 30 aircraft by 2024.
It was expected that by 2025, Vinpearl Air would operate 62 domestic routes and 93 international routes.
Nguyễn Việt Quang, Deputy Chairman and CEO of Vingroup, said Việt Nam's aviation market has a lot of potential and is developing strongly, but there are also large companies participating in the area.
"Vingroup's strong investment in aviation can lead to oversupply, causing waste. We also need to focus resources on developing our technology and industry segment, so we decided to withdraw," Quang said.
In the development strategy announced in 2018, Vingroup aims to become a leading group in technology, industry, trade and service in Việt Nam in the next 10 years.
In order to implement this strategy, in December 2019, Vingroup withdrew from retail and agriculture (Vinmart, Vinmart + and VinEco). The group later announced the closure of its Vinpro and VienthongA electronics stores to dedicate resources to the manufacturing sector.
The decision to stop investing in aviation is a step in restructuring activities, focusing on the core priorities of the group, Quang said.
The domestic aviation market is considered to be reaching a growth saturation point due to airport infrastructure bottlenecks. Việt Nam has five commercial airlines with significant market share, including Vietnam Airlines, Vietjet Air, Bamboo Airways, Jetstar Pacific Airlines and Vietnam Air Services. — VNS