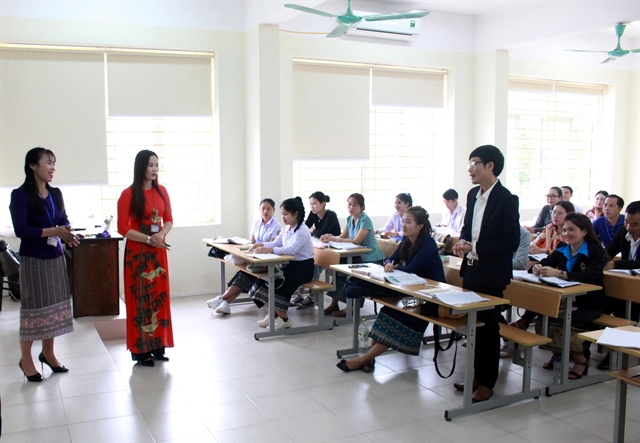 A class at Thái Nguyên University. Besides pay increase, recognition and favourable environment to develop are important motivations to lecturers. — VNA/VNS Photo Quân Trang 
HÀ NỘI — Up to 55 per cent of lecturers of the National Academy of Public Administration – Central Highlands Campus are eager to change jobs as they expect a pay increase if they do so.
Phạm Thị Hằng, an academy lecturer, said a survey of 40 workers revealed only two of them felt "contented" with their current jobs.
Other higher education institutes in Việt Nam report the same situation. Low wages and poor management pose threats of a brain drain and cannot create motivation for lecturers to contribute.
"Twenty-two surveyed workers expect to have their income increased to push themselves to work harder," Hằng told Thanh Niên (Young people) newspaper.
Đỗ Hoàng Ánh, a lecturer of Hà Nội University of Social Sciences and Humanity, said despite colleges' efforts to increase salaries, pay was still within the framework of wage policy, leaving lecturers unable to secure comfortable lives, especially in big cities.
Current salary ranges also do not reflect the lecturers' contribution and productivity of different positions.
The current salary of a public university director is under VNĐ20 million (US$863) per month. A doctoral lecturer can only earn from VNĐ65,000 to VNĐ120,000 ($2.81-5.18) for each session. After a decade of teaching, their monthly salary will be about VNĐ4.5 million ($194).
However, Ánh said low wages are just a small part of a bigger picture. What lecturers really need, according to him, is a fair working environment which can address income needs including salary, allowance, subsidy and welfare, ensure adequate living standards, facilities, respect, safety and opportunities to contribute and be recognised as well as protection mechanisms.
Việt Nam's higher education institutes, however, face three major challenges. First is the imbalance in wage policy and income that lecturers receive. Second is the lack of recognition for contribution of teachers, while the third is the struggle for autonomy.
Phan Thị Hời from Lạc Hồng University said a study of 225 lecturers and workers of private universities in Đồng Nai Province and HCM City showed a good working environment featured a comfortable vibe, helped them stay focused and offered facilities for research.
According to Hời, a sense of belonging is essential to nurturing ties between lecturers and universities, while they need favourable conditions to pursue their chosen research career.
Nguyễn Thanh Hà from Banking University of HCM City said the average salary of the school staff in 2018 was VNĐ15 million ($647).
To encourage lecturers to do research, they grant VNĐ35 million ($1,511) for each excellent study and VNĐ20 million ($863) for each reference document. Nearly 70 per cent of surveyed lecturers said they were satisfied with their salary. However, some of them are reported to still be discontented with their additional income, saying the money was not justly distributed.
Nguyễn Thành Độ from the National University of Economics said goals set by lecturers depended on their titles, academic ranks or fields of study.
Awards or pay increases may be important, yet recognition from colleagues, respect from students and opportunities to learn and contribute must be what lecturers prefer, he said. — VNS