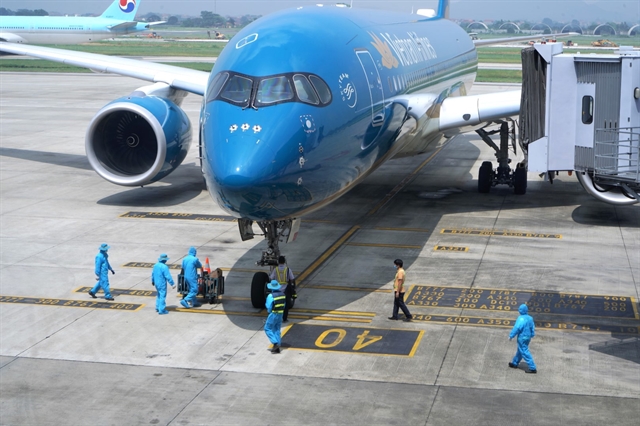 Vietnam Airlines flight No VN417 parked at Nội Bài International in Hà Nội after completing the journey from Seoul, South Korea. — Photo courtesy of Vietnam Airlines
HÀ NỘI — Operated by the national flag carrier Vietnam Airlines, a return commercial flight from South Korea's Seoul landed at Hà Nội's Nội Bài International Airport Friday noon, marking a milestone in the restoration of the country's air transport after months of disruption due to the COVID-19 pandemic.
Using the long-range wide-body airliner Airbus A350, flight No VN417 took off from Incheon International Airport in South Korea, bringing back about 100 passengers, mostly returning Vietnamese and South Korean investors and experts.
Earlier in the morning, the outbound flight carried 164 passengers from Hà Nội to Seoul.
South Korea is among the six destinations in Asia with which Việt Nam's Government has decided to resume international flights since the country sealed off its borders on March 22, in addition to Japan, China, China's Taiwan, Laos and Cambodia, which are all important partners of Việt Nam and have the COVID-19 situation under control.
Võ Huy Cường, deputy of Việt Nam's Civil Aviation Authority, said the flight is a "trial" to see the air transport sector's operation and capacity in receiving international passengers.
This marks a milestone in Việt Nam's air link resumption, as part of the Government's dual goals of developing the economy while safely managing the risks of COVID-19 in the new normal.
The resumption of flights received a warm welcome from Vietnamese citizens in the RoK as well as Korean people, particularly business people and investors.
The flight is operated under strict health protocols to prevent the spread of coronavirus, and its success highlights the effective coordination between the airline, the airport, and health agencies.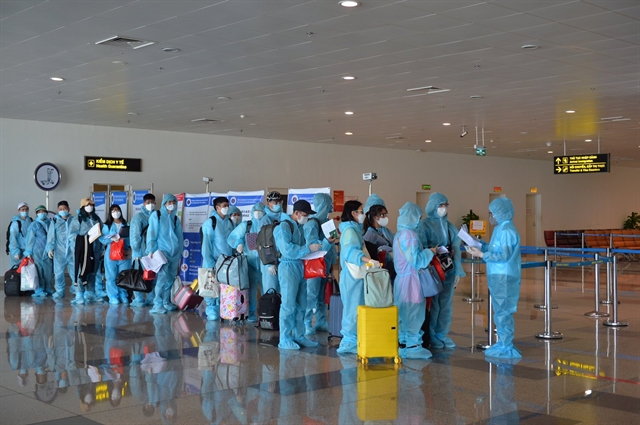 The passengers, wearing full protective suits, arrived in Nội Bài International Airport, Hà Nội. — Photo courtesy of Vietnam Airlines
Before boarding, passengers must obtain proof of negative SARS-CoV-2 tests (using PCR diagnostics) from certified health authorities three days prior to departure, confirmation of quarantine accommodation in Việt Nam, and mandatory installation of Việt Nam's contact tracing app Bluezone and self-completing health status app Vietnam Health Declaration on their mobile devices.
After the flight, the passengers will be tested for COVID-19 in Việt Nam. If the results return positive, they will be transported to a local health facility to be isolated and treated. If the results come back negative, they could continue to quarantine in registered hotels or other accommodations and they would be tested again on the sixth day after entry or when suspect symptoms manifest.
With a negative result on their second test, they would be allowed to travel to their residence to self-isolate to complete the 14-day quarantine and follow the anti-pandemic measures.
The aircrew underwent health examination and would also be quarantined for 14 days.
The aircraft's passenger sections and cockpit will be sterilised.
Vietnam Airlines is working to resume international flights in line with Government directions and approval from foreign authorities.
Meanwhile, the RoK Government announced on September 24 that air routes between Incheon and Việt Nam's Hà Nội and HCM City will be reopened this month, with two flights a week. — VNS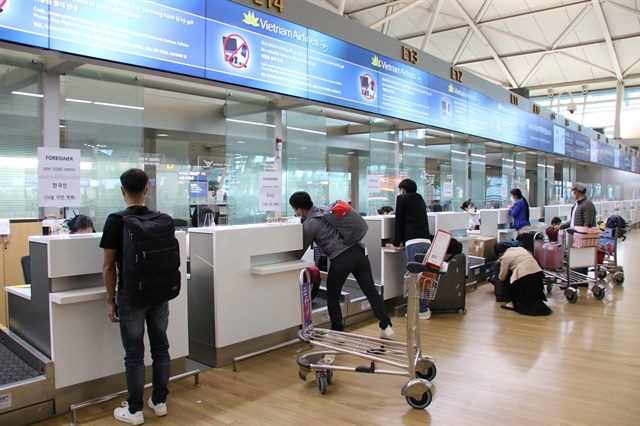 Passengers at check-in counters in Incheon International Airport, Seoul, South Korea on Friday morning. — VNA/VNS Photo Mạnh Hùng