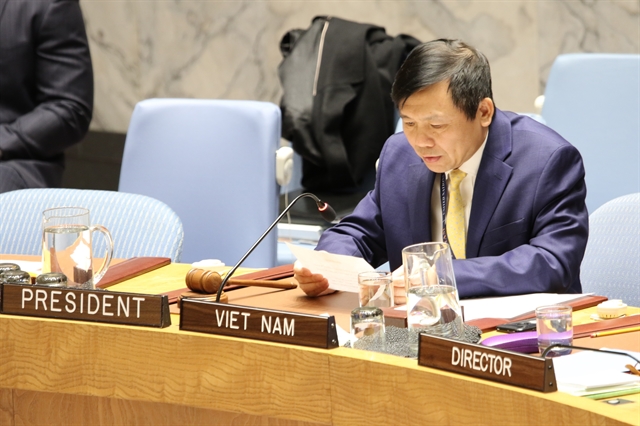 Ambassador Đặng Đình Quý, head of Việt Nam's Permanent Mission to the UN, presides over a UNSC session on Yemen and Colombia in New York on Monday. — VNA/VNS Photo Hữu Thanh
NEW YORK  — Việt Nam presided over a United Nations Security Council session on Monday (local time), during which the organisation adopted a resolution to extend the mandate of the UN Mission to support the Hodeidah Agreement (UNMHA) in Yemen and listened to a report on the UN mission overseeing the peace agreement in Colombia.
The council unanimously adopted Resolution 2505 extending the mandate of the UNMHA until July 15.
The UNMHA was established by the UN Security Council under Resolution 2452 on January 16, 2019, with the main task of overseeing a ceasefire and troop redeployment in Yemen's Hodeidah, while co-ordinating UN efforts to help parties implement the Hodeidah Agreement.
At the session, the Security Council also listened to Carlos Ruiz Massieu, the UN Secretary-General's Special Representative for Colombia and head of the UN Verification Mission in the country, delivering the Secretary-General's report on Colombia's situation, the mission's activities over the last three months and proposals submitted to the council.
Representing Việt Nam – President of the UN Security Council in January, Ambassador Đặng Đình Quý, head of Việt Nam's Permanent Mission to the UN, spoke highly of the commitments and efforts made by the Colombian Government and relevant parties over the past three years since the signing of a peace agreement.
Việt Nam asked them to give top priority to ensuring security and development for all Colombian people, including war veterans. It also called on the international community to increase support for the Colombian government in important fields such as improving law enforcement, replacing illicit crops, preventing illegal economic activities, crime and violence, and reclaiming mine-contaminated areas.
The country said it was necessary to step up measures to develop the economy, boost social cohesion, and develop rural areas, housing, education and employment, Quý said.
The UN Verification Mission in Colombia was set up under Resolution 2366 of the UN Security Council in 2017. — VNS