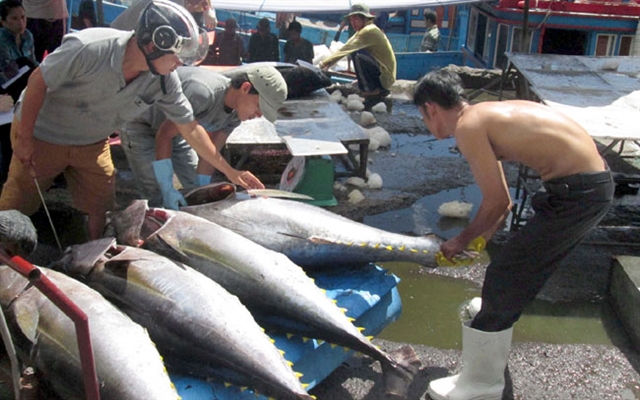 Tuna is transported for sale in Khánh Hòa Province. — VNA/VNS Photo
HÀ NỘI — In the difficult economic context caused by the novel coronavirus (COVID-19) pandemic, the Việt Nam Association of Seafood Exporters and Producers (VASEP) suggested tuna processors and exporters exploit the domestic market.
Tuna exporters said that in case Việt Nam had been able to control the pandemic, but it still existed in Europe and the US, the tuna export market would be difficult and unstable.
In addition, tuna is an "expensive dish" at restaurants for people with high incomes but due to COVID-19, many have lost income, causing consumption to decrease even when the pandemic is controlled.
Nguyễn Thị Thu Thanh, director of Sustainable Seafood Limited Company in the southern province of Khánh Hòa, which exports tuna to the US market, said that over the past month, the company purchased about VNĐ25-30 billion (US$1.06 million-1.29 million) of raw materials but its export volume was about VNĐ2-3 billion monthly.
Despite inventories, businesses still have to pay money to fishermen and interest rates for banks.
They also have to suffer soaring electricity costs due to cold storage, which adds a significant burden on costs for businesses.
Nguyễn Thị Thu Sắc, chairwoman of the seafood committee of VASEP, said that Việt Nam was not only a major seafood exporter, but also a potential consumption market of many other countries.
The country has a system of restaurants and hotels for international and domestic tourists; population in the age of high consumption; increasing income, especially in urban areas, accompanied by the tendency to choose meals outside.
"All create a diversified seafood consumption market," she said. "Therefore, tuna processors and exporters can exploit this potential."
If we did not take advantage of the domestic market, consumers would choose seafood imported from other countries, she added.
Facing this situation, in order to ensure tuna is consumed, localities with ocean tuna fishing fleets have strengthened the consumption solution, helping the fishing and processing industry overcome the difficulties.
Specifically, the south-central province of Phú Yên has encouraged businesses to focus on promoting tuna products and boosting domestic consumption through service and tourism activities.
At the same time, the provincial People's Committee discourages fishermen from increasing the number of fishing vessels but concentrate on preservation stages to improve the quality of tuna and boost domestic consumption.
Especially, a number of restaurants, hotels and large tourist areas of the province have regularly invited culinary experts to perform the demonstration of slaughtering and processing of tuna to serve customers in the past year.
These activities have contributed to bring the provincial tuna specialty to many domestic consumers, improving the value and brand of tuna.
Facing the current difficulties of the tuna fishing, processing and exporting industry, the Ministry of Agriculture and Rural Development has proposed management agencies and associations to proactively develop scenarios of agricultural and aquatic exports to meet the increasing demand of world consumers when the pandemic is over. — VNS