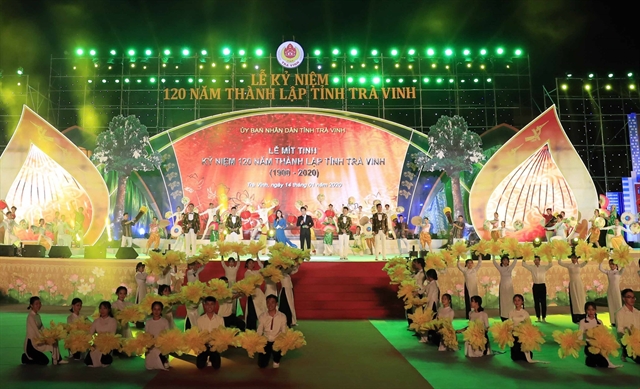 A ceremony is held on Tuesday to mark the 120th anniversary of the establishment of Mekong Delta's Trà Vinh Province. — VNA/VNS Photo Thống Nhất
TRÀ VINH — Prime Minister Nguyễn Xuân Phúc applauded Mekong Delta Trà Vinh Province for its socio-economic development while addressing a ceremony held on Tuesday to celebrate the 120th anniversary of the province's establishment.
The province achieves an annual growth rate of over 11 per cent in the Gross Regional Domestic Product (GRDP). The GRDP per capita increased from VNĐ0.73 million (US$32) per person per year in 1992 to VNĐ59 million ($2,550) in late 2019. 
The province has 55 communes meeting new-rural style standards, accounting for 64.7 per cent of its total communes.
The rate of poor households dropped from 40 per cent in 1992 to 3.33 per cent in late 2019.
PM Phúc said the local authorities should promote achieved results and pay more attention to poverty reduction tasks, particularly for Khmer ethnic people.
The province should also be more creative in exploiting its potential, particularly in the fields of sea-based economy and high technology agriculture and improve investment environment and regional connection as well as administrative reform, PM Phúc said.
He also instructed local authorities to focus on education development, including vocational training, to create high-quality human resources for further development.
Since its establishment in 1900, Trà Vinh used to be among the poorest provinces in the entire Mekong Delta, with a low socio-economic starting point, agriculture-based economy and small-scale industrial production, and no major service and trade contributions to speak of, according to Đồng Văn Lâm, Chairman of Trà Vinh People's Committee.
During the 10 years it implemented the Việt Nam Maritime Strategy towards 2020, Trà Vinh has invested considerably into harnessing its coastal locations to become one of the Mekong Delta's localities with the most developed sea-based economy, regional connectivity and international trade.
Currently, the province is the location for many national key projects, including the 4,305 megawatt coal-fired Duyên Hải Power Station and the waterway for large tonnage vessels to enter Hậu River, which has significant meaning for the socio-economic development of the western area of the southern region.
Earlier the same day, PM Phúc shared the joy of the Tết (Lunar New Year) festival with workers, low-income people and Agent Orange victims at a programme in the Mekong Delta province of Vĩnh Long.
Speaking highly of the socio-economic development in Vĩnh Long, PM Phúc applauded the province's attention to ensuring a merry Tết for workers and disadvantaged people.
The Government leader asked provincial authorities and the Vietnam General Confederation of Labour to mobilise resources for building social infrastructure facilities like kindergartens, canteens and housing for labourers in industrial parks. He also requested business owners to pay more heed to their employees' material and spiritual lives.
On this occasion, the PM handed over 100 houses for the poor in the province.
Central Highlands province visit
Chairwoman of the National Assembly Nguyễn Thị Kim Ngân had a working session with the provincial Party Committee's Standing Board of the Central Highlands province of Đắk Lắk on Tuesday.
Ngân recognised the province's socio-economic achievements in 2019, including its gross regional domestic product (GRDP) reaching 9.23 per cent and the annual per capita income surpassing VNĐ49 million (US$2,110).
Positive outcomes were also seen in building new-style rural areas, she said, citing 52 communes in the province have met all criteria of the programme.
Though Đắk Lắk has the fourth largest natural area in the country with 49 ethnic groups living together, the local state budget collection in 2019 stood at only VNĐ7.37 trillion ($317.5 million), showing the province faced a lot of difficulties, the top legislator said.
The NA Chairwoman emphasised the task to ensure defence and security as the Central Highlands has an important strategic location.
During her working visit to Đắk Lắk, Ngân visited workers, police officers, and border guards in the province on the occasion of the upcoming Tết. — VNS