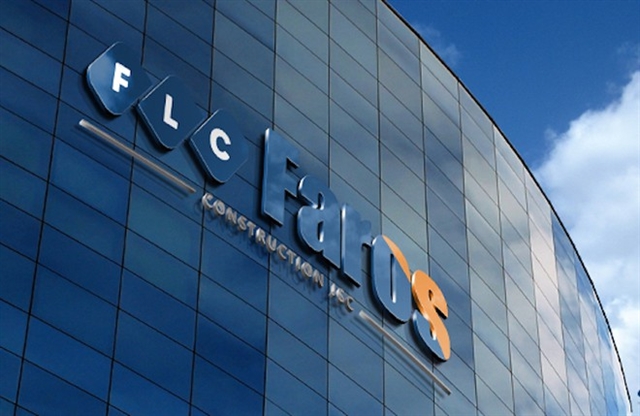 The logo of FLC Faros Construction Corporation. The firm shares surged 6.6 per cent on Tuesday. – Photo tinnhanhchungkhoan.vn
HÀ NỘI – Vietnamese shares bounced slightly Tuesday with improved trading liquidity, but market sentiment remained weak.
The benchmark VN-Index on the Hồ Chí Minh Stock Exchange inched up 0.12 per cent to close at 967.00 points.
The VN-Index fell 0.28 per cent on Monday.
Trading liquidity increased significantly compared to the previous trading day.
More than 190 million shares were traded on the southern bourse, worth VNĐ4.28 trillion (US$185 million).
On Tuesday, more than 147 million shares were traded, worth VNĐ2.76 trillion.
The market breadth was slightly negative with 163 declining stocks and 155 gainers on the southern market.
Sharp increases in trading liquidity were seen in some large-cap stocks such as FLC Faros Construction (ROS), Vietinbank (CTG), Military Bank (MBB) and steel producer Hòa Phát (HPG).
Shares of those companies advanced between 0.9 per cent and 6.6 per cent.
Those stocks were also among the four best-performing large-caps in the VN30 basket.
The large-cap VN30-Index, which tracks the performances of the 30 largest stocks by market value and trading liquidity, rose 0.34 per cent to 884.77 points.
Other gainers in the basket included VPBank (VPB), property firm Novaland (NVL) and SSI Securities Corp (SSI), which were up between 0.1 per cent and 2.7 per cent.
Mid-cap stocks also performed well, pulling the mid-cap VNMID-Index up 0.94 per cent while small-cap VNSML-Index edged down 0.19 per cent.
The market sentiment was unchanged, Thành Công Securities Co (TCSC) said in its daily report.
The upcoming week-long Tet (Lunar New Year) holiday made investors unwilling to increase the shares-cash ratios in their portfolios, TCSC said.
With the current conditions, the VN-Index would keep struggling between 950 points and 970 points as it has been doing in the past six weeks, the company forecast.
Trading liquidity would remain modest and attention would be divided into shares of banks, retailers, oil and gas firms, and technology businesses, TCSC said.
On the Hà Nội Stock Exchange, the HNX-Index added 1.03 per cent to end at 103.36 points.
The HNX-Index increased by a total of 3.02 per cent in all four trading days between January 8 and January 14.
Nearly 23 million shares were traded on the northern market, worth VNĐ278 billion.