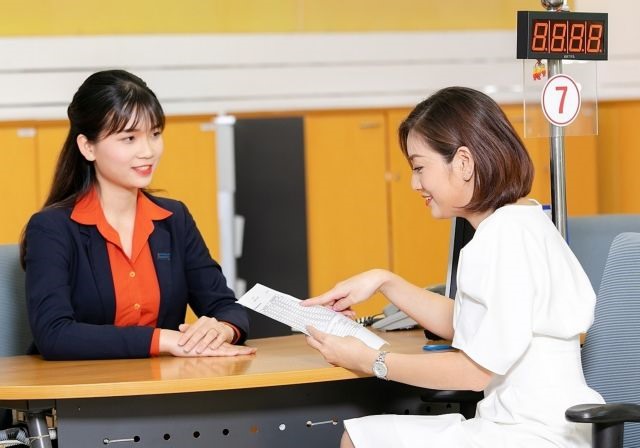 A bank teller of Sacombank (STB) with a customer. The banking stock group made the biggest contribution to the VN-Index's gain last week. — Photo courtesy of Sacombank
HÀ NỘI — Vietnamese markets are forecast to experience some volatility with alternate corrections while moving upward next week, with strong support from heavy-weight stocks.
The benchmark VN-Index in the Hồ Chí Minh Stock Exchange lost 0.03 per cent to close Friday at 908.27 points.
The index had risen 0.81 per cent last week.
An average of 391.4 million shares were traded on the southern exchange during each session last week, worth VNĐ6.7 trillion (US$288.6 million).
"The VN-Index is forecast to face correction pressure during early trading sessions next week and recover toward the end of the week," said Trần Xuân Bách, a stock analyst at Bảo Việt Securities Co.
"The index will continually oscillate between the support zone 900-905 points and resistance of 920 points. Overall, we maintain our positive stance on the market's uptrend with the target at 930-940 points," he said.
"The market movement during this period will experience unexpected fluctuations with a wide divergence among stock sectors. Large-cap stocks are still expected to draw cashflow attention and support the market," he said.
"The stock exposure should be maintained at 50 per cent of total investment. Investors who already sold previously may consider reopening buying positions at market's support 895-905 points.
"Investors holding a large stock exposure may consider lowering short-term exposure at resistance of 920-930 points," he said.
According to MB Securities Co, profit-taking pressure increased last week, especially in the last three sessions of the week.
However, the correction pressures remained in a tight trading band, which was a positive sign, the company said.
Experts from Mirae Asset Vietnam Securities Co Ltd said that the VN-Index was under strong selling pressure at the resistance zone of 910 points.
Selling pressure will continue to hinder the index's rally in the first sessions this week, it said.
Oil and gas stocks made the largest gains last week of 2.6 per cent, with notable gainers such as Việt Nam National Petroleum Group (PLX), up 2.4 per cent, PetroVietnam Drilling & Well Services Corporation (PVD), going up 3.1 per cent, PetroVietnam Technical Services Corporation (PVS), rising 5 per cent.
However, it was the banking stock group that made the biggest contribution to the VN-Index's gain, with Vietcombank (VCB) and Sacombank (STB) being the two largest contributors.
Other strong gainers included Vietinbank (CTG), rising 1.6 per cent, VPBank (VPB), up 0.2 per cent, Military Bank (MBB), gaining 4.5 per cent, Techcombank (TCB), climbing 2.8 per cent, Asia Commercial Bank (ACB), going up 2.3 per cent and Saigon Hanoi Commercial Joint Stock Bank (SHB), rising 6.2 per cent.
The consumer service group also increased by 1.3 per cent with gainers including Mobile World Group (MWG), up 6.3 per cent, and Digiworld (DGW), rising 0.4 per cent.
According to Saigon-Hanoi Securities Joint Stock Company (SHS), the market continued to rise last week with increased liquidity compared to the previous week, indicating that the buying demand of investors in the current period remained quite strong.
"The VN-Index continues to stay above 900 points. There is still room for the index to increase, the nearest two resistance zones of the index are 910 points and 925 points," the company said.
"The Vietnamese stock market had a volatile trading week with alternate up-and-down sessions. This is also quite similar to the world stock market movement, such as the US stock market," it said.
The minor HNX-Index on the Hà Nội Stock Exchange lost 0.14 per cent to end Friday at 131.52 points.
The index had gained 1.80 per cent last week.
An average of 67.4 million shares were traded on the northern exchange during each session last week, worth VNĐ931 billion. — VNS