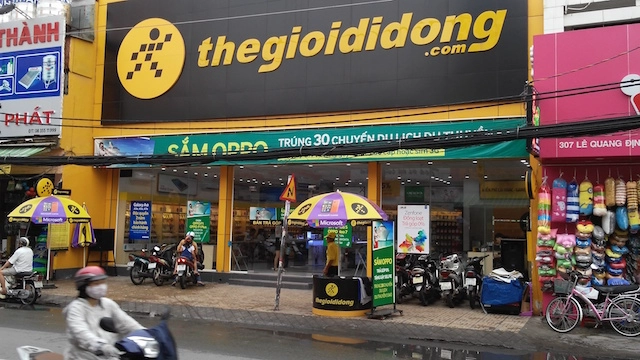 A store of Mobile World Group (MWG) in Hà Nội. MWG lost 2.3 per cent on Friday. — Photo cafef.vn
HÀ NỘI — Vietnamese stocks fell on Friday as dealers locked in profits after four straight sessions of gains amid increasing liquidity.
The benchmark VN-Index on the Hồ Chí Minh Stock Exchange (HOSE) decreased 1.16 per cent to end at  852.74 points.
The benchmark had gained a total of 4.32 per cent in the previous four trading days.
Nearly 304 million shares were traded on the southern bourse, worth VNĐ5.3 trillion (US$225.9 million).
This presented a slump of 76 per cent in volume and 96.3 per cent in value compared to the previous session.
Large-cap stocks pulled the market down as investors sought profits from the previous four-day rally.
The large-cap tracker VN30-Index slipped 1.52 per cent to end at 803.14 points, with 29 of the 30 largest stocks by market capitalisation and trading liquidity ending the morning session on the negative side.
Among the worst decliners were residential real estate firm Vinhomes (VHM), conglomerate Vingroup (VIC) and Mobile World Investment Corporation (MWG).
Bank stocks also underperformed with Techcombank (TCB) decreasing by 4.3 per cent to VNĐ21,050 per share and HDBank (HDB) falling by 4.6 per cent. Sacombank (STB), VPBank (VPB) and Military Bank (MBB) all lost more than 2 per cent.
On the other side, some pillars in the steel industry still attracted cash flow and increased, including steelmaker Hòa Phát Group (HPG), climbing by 2.8 per cent to VNĐ27,250 per share, Nam Kim Group (NKG) rising by 4.2 per cent and Hoa Sen Group (HSG) soaring by 4.6 per cent.
Small-cap and mid-cap indices also suffered from the fall of large-cap stocks.
On a sector basis, 21 of 25 sectors lost ground, including insurance, real estate, wholesale, information and technology, retail, healthcare, mining, banking, agriculture, rubber production, food and beverage, seafood processing, logistics and construction.
The minor HNX-Index on the Hà Nội Stock Exchange (HNX) rose 1.23 per cent to close Friday at 107.04 points.
The northern market index had lost a total of 2.84 per cent in the previous two days.
Nearly 71.4 million shares were traded on the northern market, worth VNĐ764 billion.
Foreign investors net sold VNĐ66.70 billion on the HOSE, including Hòa Phát Group (HPG) (VNĐ77.73 billion), Việt Nam's Dabaco Group (DBC) (VNĐ27.94 billion) and Vincom Retail (VRE) (VNĐ27.30 billion). They were net sellers on the HNX with a value of VNĐ3.33 billion.
"The VN-Index is forecast to head toward resistance 860-880 points early next week, where correction and volatility are expected," said Nguyễn Đức Hoàng, market strategy analyst at Bảo Việt Securities Company (BVSC).
"The market is also expected to fluctuate widely next week with the review session of EFTs tracking MSCI," Hoàng said.
"Foreign investors have also balanced out their net buying and selling activities recently," he added.
"Stock exposure should be maintained at 30-40 per cent of the portfolio. Investors should continue to hold current positions and hold off on buying new stocks. They should consider selling short-term positions at the resistance 860-880 points zone," he said. — VNS