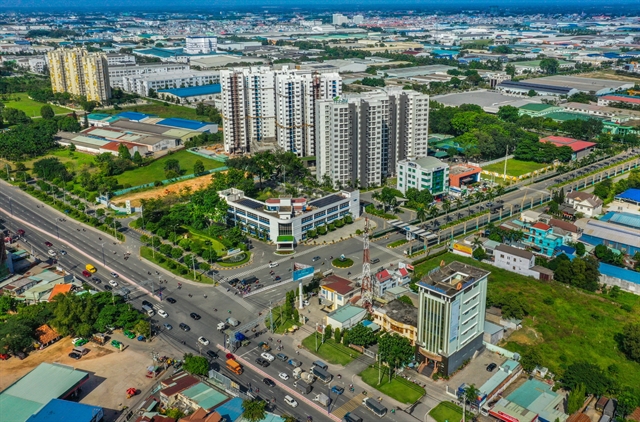 The Singapore-Việt Nam Industrial Park in Bình Dương Province. VNA/VNS Photo Chí Tưởng
BÌNH DƯƠNG — The southern province of Bình Dương's Innovation Region project is expected to speed up economic growth of the area.
The province authorities held a conference on September 22 to collect opinions from experts on the implementation of the project.
Speaking at the conference, Trần Văn Nam, the provincial Party Committee's secretary, said: "With the province's current potential and capacity, especially from the very important achievements in the recent implementation of its Smart City Development Project, we can set up a Bình Dương Innovation Region as the Becamex Investment and Industrial Development Corporation has reported and proposed."
Regarding the policy, the provincial Party Committee agreed with the implementation of the project and the planning of a Science, Technology and Industry Park in the province's Bàu Bàng District.
To carry out the project, the province will continue urban and traffic planning, complete a road traffic system, and upgrade streets to address traffic congestion. More belt roads in the province will be built.
The project also highlights building a culture of innovation and entrepreneurship; carrying out digital transformation and Industry 4.0, digital government, and e-commerce; and attracting human resources.
According to authorities, the Innovation Region Project will set up a sustainable innovative ecosystem and culture that will create an interesting environment for start-ups and technological enterprises. 
Under the Innovation Region project, Thủ Dầu Một City would become a centre in the Innovation Region. The city would have a one-door administration system and include a higher education system, an innovative ecosystem, commercial centre, high-quality urban area, and logistics centre for electronic commerce. IT and telecommunication Infrastructures will also be developed.    
An important feature of the Innovation Region will be the establishment of the Science, Technology and Industry Park. The park will attract institutions and multinational corporations, and promote research and transfer.
Mai Hùng Dũng, vice chairman of the provincial People's Committee, said that based on other development models of innovation regions, the province's Bình Dương Innovation Region is suitable for its context.
"The province will reform policies and administrative procedures to attract enterprises. It also will focus on improving the quality of life of its residents, and developing green spaces and renewable energy," Nam added.  
The number of enterprises in the province increased from 20,000 in 2016 to 44,000 in March in 2020. Its economic growth in the 2011-2020 period was about 8.5 per cent each year. Its gross regional domestic product this year is expected to reach US$7,665, up from $4,660 in 2015. VNS