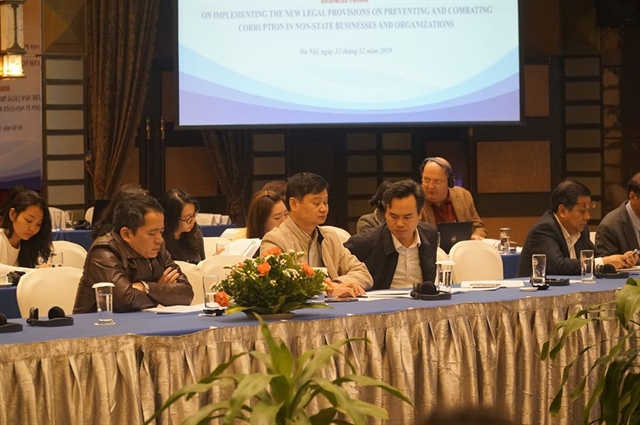 Participants at the business forum held yesterday in Hà Nội. — Photo courtesy UNDP Việt Nam
HÀ NỘI — Private businesses have said they were unsure about how to implement the 2018 Law on Anti-Corruption that came into effect on July 1.
They had failed to apply a code of conduct to prevent corruption in their businesses, participants said at a forum held yesterday in Hà Nội.
"One of the reasons is the law is new," one representative said.
Corruption in the private sector was on the rise, posing a threat to society and the economy, he said.
Speaking at the forum, deputy inspector general of the Government Inspectorate Trần Ngọc Liêm said the expansion of the law's scope to non-state sectors was necessary.
Catherine Phương, assistant resident representative of UNDP Việt Nam, said the implementation of the law required efforts not only from the Government but also from companies.
"Companies should play an active role in complying with the laws and regulations, and ensuring their business practices promote the values of fairness, inclusiveness, integrity, transparency and accountability," she said.
Vương Hoàng Hải from the Việt Nam International Commercial Joint Stock Bank said Việt Nam should strengthen the dissemination of the law to private businesses and build a healthy and sustainable business environment for long-term benefits as well as contributing to sustainable development.
The UNDP has been working closely with Vietnamese partners on anti-corruption for several years.
The forum was also part of a UNDP regional project themed "Promoting a Fair Business Environment in ASEAN", funded by the United Kingdom. This three-year project, which was launched in Bangkok in August 2018, aims to promote a fair business environment in ASEAN by minimising corruption risks and encouraging sustainable practices. It targets six countries in ASEAN. The programme is focused on promoting business integrity and strengthening anti-corruption policies and laws. — VNS