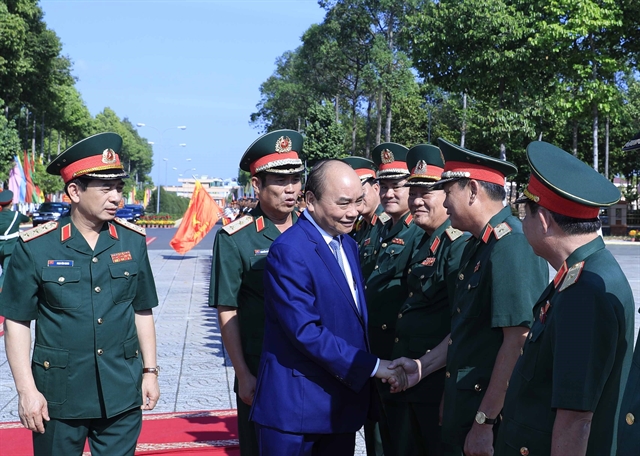 Prime Minister Nguyễn Xuân Phúc meets the High Command of Military Region 5 at its headquarters in the central city of Đà Nẵng during an inspection on Monday. — VNA/VNS Photo Thống Nhất
ĐÀ NẴNG — Prime Minister Nguyễn Xuân Phúc inspected the combat readiness of the High Command of Military Region 5 at its headquarters in the central city of Đà Nẵng on Monday.
Lt. Gen. Nguyễn Long Cáng, Commander of the military region, reported that last year the whole region, which covers 10 provinces and one city in the south-central coastal and Central Highlands regions, implemented the Party and Government's resolutions and completed the building of border patrol roads.
Units of the region sent 34,000 soldiers to help locals overcome natural disaster consequences and carry out search and rescue missions. They also coordinated with Laos and Cambodia to build border lines of peace, friendship, stability and development.
Additionally, the units presented more than 6,900 gift packages worth more than VNĐ27 billion (US$1.17 million) to members of armed forces, the Vietnamese Heroic Mothers, war invalids, policy beneficiary families and martyrs' families. They also built 99 houses for disadvantaged people.
The military region is also taking care of 359 Vietnamese Heroic Mothers, Cáng added.
At the working session, PM Phúc said Military Region 5 is an important zone given its shared borders with Laos and Cambodia, as well as island communes and districts.
Highlighting the Party and State's attention to the region, he spoke highly of its timely assistance to help minimise damage of the Attapeu dam collapse in Laos. 
He also applauded its thorough grasp of the border situation, good performance in fighting cross-border crimes, particularly smuggling and drug trafficking, and mass mobilisation activities, noting this region was once a fierce battlefield witnessing a large number of people sacrificing their lives during the resistance wars to defend the nation.
Pointing out future tasks, the Government leader told the Party Committee, the High Command, officers and soldiers to keep a good grasp of the Party and State's military – defence viewpoints and guidelines, stay alert to prevent bad circumstances and push ahead with the care for revolution contributors, martyrs' families, along with officers and soldiers, particularly those on duty during the Tết (Lunar New Year festival).
PM Phúc later arrived in Cần Thơ City to assess the combat-readiness of the Military Region 9 High Command, which is responsible for safeguarding the Mekong Delta.
The Government leader said he is impressed by the creative exercises and drills of units under the Military Region 9, urging there must be sufficient officers on duty for the new year festival to respond to all circumstances.
He also conveyed new year wishes to soldiers of the military region command. — VNS