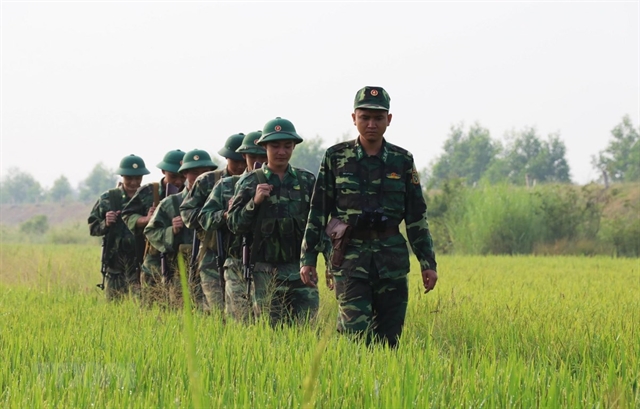 The Việt Nam Border Guard Law is necessary to meet the needs for safeguarding the country's border. — VNA/VNS Photo
 HÀ NỘI —  In the morning session, the NA mulled over the draft Việt Nam Border Guard Law which covers border defence tasks, international co-operation in border defence and the responsibilities of agencies, organisations and individuals performing border defence tasks.
Presenting the draft to NA deputies, Minister of National Defence Ngô Xuân Lịch said the law was necessary, saying it met the needs for safeguarding the country's border.
Currently, many forces of different ministries and agencies perform the task of protecting the national border. However, co-ordination between agencies was still loose, he said, blaming unclear regulations and overlaps between them in terms of authority.
The law would replace the Border Guard Ordinance issued in 1997 which failed to clearly define the tasks and power of the Border Guard. This caused difficulties for the force in carrying out their duties, he said.
Agreeing on the necessity of the law, Võ Trọng Việt, chairman of the NA's Committee for Defence and Security, said the draft should be carefully reviewed to ensure consistency and synchronisation with relevant regulations.
It was essential to collect opinions from those affected by the law, assessing the implementation of international conventions that Việt Nam is part of and getting experiences from other countries, he said while delivering a verification report on the draft. — VNS