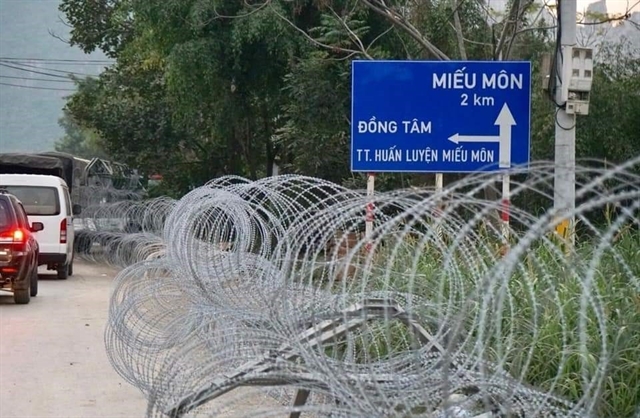 Steel thorn wires run around Sênh field in Đồng Tâm Commune. — VNA/VNS Photo
HÀ NỘI — Hà Nội police on Monday announced they have issued a decision to commence legal proceedings against 22 people over the disturbance in Đồng Tâm of suburban district Mỹ Đức, on January 9 which left four people dead.
They include 20 in relation to murder and two accused of resisting officials.
The police are also detaining four others – Nguyễn Thị Dung for resisting on-duty officials, and Nguyễn Xuân Điều, Trần Thị Phượng and Đào Thị Kim for murder charges.
On January 9, they issued a decision to start legal procedures with the three charges of "murder", "illegally storing and using weapons" and "resisting on-duty officials".
Violence erupted on the morning of January 9 in Đồng Tâm Commune, where a number of units under the Ministry of National Defence and competent forces are building protective walls around Miếu Môn military airport as planned.
A number of rioters, armed with grenades, petrol bombs and other weapons, attacked those working at the construction site, the ministry said.
Three police officers and one rioter were killed during the incident, while another rioter was injured.
The ministry said relevant units made the arrests in line with the law.
The funeral for the three dead officers will be organised following the rituals of the People's Police forces on Thursday in Hà Nội, the Ministry of Public Security said.
The three police officers are Senior Lieutenant-Colonel Nguyễn Huy Thịnh, 48, Captain Phạm Công Huy, 27 and Senior Lieutenant Dương Đức Hoàng Quân, 26.
Public security minister Tô Lâm earlier visited and offered condolences to the families of the deceased officers.— VNS