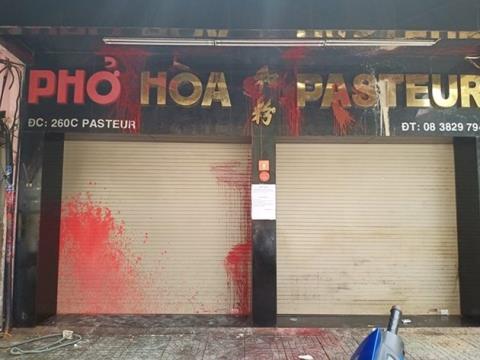 A restaurant in downtown HCM City covered in red paint. Spraying debtors' resident or shop with red paint is a common practice used by debt collectors. — Photo baodautu.com
HÀ NỘI — Several deputies called for a ban on debt collecting during a debate between lawmakers at the National Assembly's session today.
Some lawmakers slammed the debt collection industry, citing numerous incidents in which criminal gangs were found behind or closely linked to debt collecting firms and had reportedly terrorised, blackmailed and threatened victims.
Deputy Trần Văn Tiến from Vĩnh Phúc Province, a supporter of the ban, said debt collection itself wasn't a problem, but the criminal gangs that operated under the guise of those firms were.
Tiến said a comprehensive report to evaluate the impact of a ban should be carried out.
On the other hand, many said debt collecting is a legitimate demand of society and should be allowed to operate provided firms could meet all requirements and follow a code of conducts set by law. A set of rules to oversee firms' activities was needed to prevent similar incidents from taking place, according to lawmakers.
Deputy Mai Hồng Hải from Hải Phòng City said debt collecting firms were needed as current debt settlement regulations and mechanisms remained highly complex and inefficient. Instead of a ban, Hải called for a review of regulations in the field.
Deputy Trần Hoàng Ngân from HCM City said Việt Nam could learn from existing rules and restrictions on firms' activities in the US and elsewhere.
At the session, lawmakers also voiced concerns over the illegal trade of human fetal tissue for profit.
"The NA Standing Committee takes this matter seriously and is considering adding the trade of human fetal tissue to the current ban of human and human body part trafficking," said Chairman of the NA's Committee on Economic Affairs Vũ Hồng Thanh.
In another development, the NA Standing Committee added portable water production to the country's list of businesses that needed special requirements, citing its importance to the public. — VNS