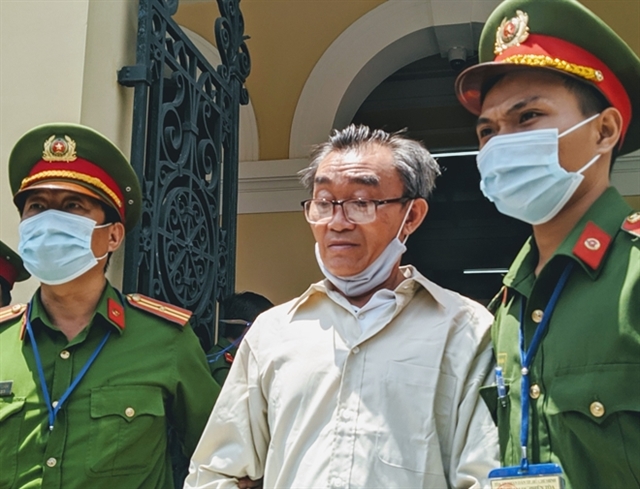 Nguyễn Khanh, 56, was sentenced to 24 years in prison by the HCM City People's Court yesterday for playing a leading role in the bombing of the Ward 12 police station in Tân Bình District in 2018. — VNA/VNS Photo Thành Chung
HCM CITY — The HCM City People's Court on Tuesday sentenced a man who masterminded the Tân Bình District police station bombing to 24 years in prison for "carrying out terrorist activities aimed at overthrowing the people's administration" and "illegal manufacturing, possession and trading of explosives."
Nguyễn Khanh, 56, a native of Đồng Nai Province, led the bombing of the Ward 12 police station on June 20, 2018, injuring three people, including an officer, and causing damage to property, the court said.
This was a "particularly serious, dangerous act that threatened the national security."
Dương Bá Giang and Nguyễn Minh Tấn, his accomplices, got 18 years each for "carrying out terrorist activities aimed at overthrowing the people's administration."
A trio directly involved in the bombing, Vũ Hoàng Nam, Dương Khắc Minh and Phạm Trần Phong Vũ, got 17 years for the same charges.
Fourteen other defendants got two to 12 years, including Nguyễn Tấn Thành, 30, Khanh's son, who got three years, for making illegal explosives. 
The men were also ordered to pay a fine of VNĐ10 million (US$432) each, and will be placed under house arrest for three to five years after completing their prison terms.
Khanh had a close relationship with Ngô Văn Hoàng Hùng, the self-proclaimed commander-in-chief of a subversive organisation, Triều Đại Việt (Việt Dynasty organisation), that he founded in 2017.
The police said Khanh was upset with authorities following a land dispute, and so was easily lured by Hùng into joining Triều Đại Việt.
Hùng promised to appoint him 'governor' of the 'Đồng Nai Autonomous Region'. 
Hùng sent money (VNĐ144 million and CA$600) to Khanh to buy explosives for carrying out terrorist attacks and recruit people, according to the prosecution. 
On Hùng's orders, Khanh instructed Nguyễn Trung Trực to buy 12kg of TNT, 45 detonators and other materials required to make bombs.
There is an Interpol notice for Hùng for "carrying out terrorist activities," according to the police.
Hùng was given a life sentence in Việt Nam in 1979, but fled to Canada and remains at large.
His organisation spreads its messages through Facebook and YouTube, according to the police. Its motto is to "fire all", "kill all", "destroy all", "steal all."
It had planned to bomb the houses of some officials, but was stopped in time, the police said.
Bomb blasts are rare in Việt Nam.
Anyone found guilty of trying to overthrow the people's administration faces 12 – 20 years' imprisonment, life imprisonment or death under the Penal Code. — VNS