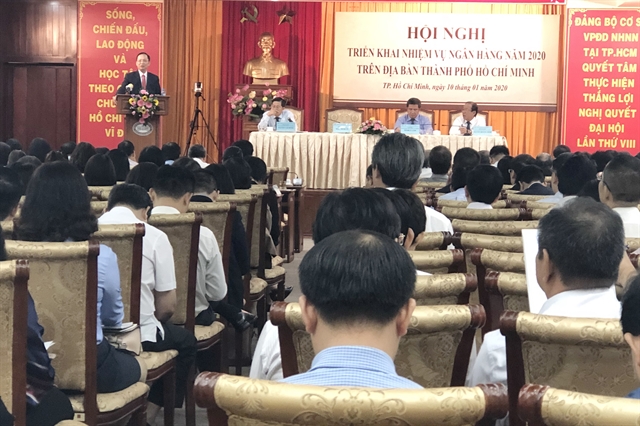 Delegates at a conference held in HCM City to set tasks for the banking sector this year. — VNS Photo
HCM CITY — Commercial banks and credit institutions in HCM City need to continue to restructure and strengthen control of credit quality to prevent a return to the days of high bad debt ratios, the deputy governor of the State Bank of Vietnam Đào Minh Tú has warned.
Speaking at a conference held to set tasks for the city's banking sector this year, Tú also called on credit institutions to increase the use of technology for payments and develop more new products and services to meet customers' demands.
Reporting on the performance of the banking sector last year, Nguyễn Hoàng Minh, deputy director of the central bank's city branch, said there was good growth in all areas.
During the year deposits rose by 13.5 per cent to over VNĐ2,498 trillion (US$107.8 billion), and outstanding loans by 14 per cent to over VNĐ2,302 trillion ($99.3 billion).
A city programme that links up banks and businesses helped 8,555 businesses get total loans of VNĐ303.42 trillion last year at preferential interest rates of 6.5-7 per cent and 9 per cent for short-term and long-term loans.
Banks also gave VNĐ162.9 trillion in short-term loans to five priority sectors (agriculture and rural development, production of export goods, small- and medium-sized enterprises, supporting industries, and high-tech enterprises).
These programmes have enabled businesses to expand, Minh said.
"Most credit institutions have reported good results and their bad debts are under control."
The bad debt ratio at city banks last year reduced to 2.1 per cent by the end of November last year from 2.64 per cent at the end of 2018.
In the first 11 month of 2019 they recovered more than VNĐ99.5 trillion worth of bad debts.
But they complained about difficulties and called for more assistance from the police and other relevant agencies in collecting the debts.
To maintain the growth momentum this year and beyond, the banking sector has mapped out a number of measures, including developing services using modern technologies.
Phạm Quốc Thanh, deputy general director of HDBank, urged the Government to soon promulgate regulations for digital transformation and create a legal framework for digital payment solutions and other technologies. — VNS