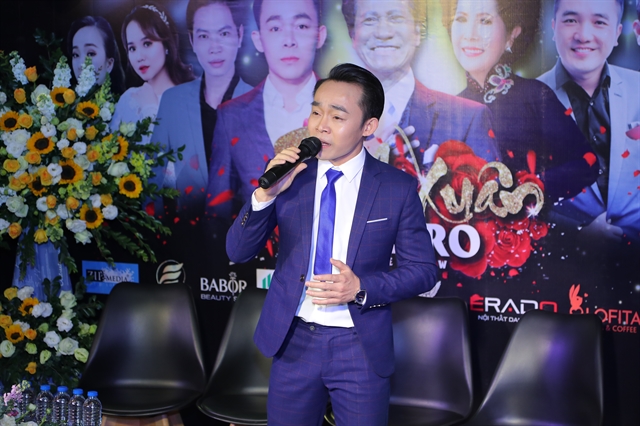 From a busker on the street to a singer at the Hà Nội Opera House, Lê Cường has walked a long road with obstacles. VNS Photo Hòa Nguyễn

HÀ NỘI – A bolero music show featuring singer Lê Cường who started his career as a busker will take place on December 28 at the Hà Nội Opera House.
Cường created an online phenomenon when he founded a YouTube channel called Sài Gòn By Night. He performs bolero duets with both male and female voices. It is a one-man show where he sings, writes scripts for the programme, remixes and produces all the clips. Each song attracts millions of views.
With the theme Spring of Love, the show will be a gift for audiences for the new year. It will feature various guest artists such as Chế Linh, Dương Ngọc Thái and Yuuki Ánh Bùi (first runner-up of the Bolero Idol singing contest in 2018).
"The concert is a gift for my fans for the New Year," said Cường. "I expect that people will enjoy the romantic and sweet bolero songs with a spring atmosphere."
Cường will perform songs with folk melodies originating from the central province of Nghệ An, where he was born. Cường left his homeland to work around the country. He wants to send a message that wherever he goes, he still remembers his home.
Cường is a singer with a strong will, said veteran singer Chế Linh. Cường competed in the X Factor singing contest in 2017.
"In the bolero genre, Cường is very successful because he sings with his heart and mind," said Linh. "I think apart from a good voice, a bolero singer needs true emotion and experiences in life to touch people's hearts. That's something singers can't achieve with training and practice."
Cường had the chance to join the military but he quit to pursue singing. He left home to move to HCM City and started a career with a loudspeaker. He worked as a busker selling chewing gum at restaurants, food shops and public places in HCM City.
"I wandered the streets and sang with a broken heart when my girlfriend and family abandoned me, however the passion for music is always in my heart," he said.
Through the concert, Cường also wants to inspire and motivate other people. He's an artist who has overcome many difficulties.
What Cường can do, you can do too, he said.
"From a busker on the street to a singer at the Hà Nội Opera House, I have walked a long road with obstacles. I encourage young artists to try their best and pursue their dreams." — VNS