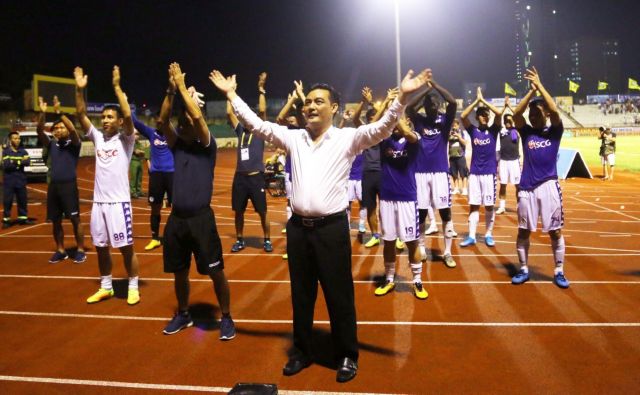 Players and staff of Hà Nội FC celebrate after beating SLNA 1-0 and winning the V.League 1. — VNA/VNS Photo Nguyễn Oanh
NGHỆ AN — Hà Nội FC have been crowned V.League champions after a 1-0 win against Sông Lam Nghệ An (SLNA).
The only goal of the game was scored in the 54th minute by Thành Chung.
It was enough to to seal the victory with two games to spare. This is the fifth time the team from the capital has lifted the prize.
The only disappointment for Hà Nội FC was they couldn't seal the deal on home turf, winning the overall competition away from home at the Vinh Stadium in the central province of Nghệ An.
But after crowd trouble earlier this month meant the champions won't be able to lift the prize in front of their own fans at the Hàng Đẫy, as they have been ordered to play their remaining games behind closed doors.
With so much at stake for the visitors, the first half of last night's game was a nervy affair and they were forced on the backfoot by the homeside.
An early chance to put SLNA in the lead was wasted, with Suan Manh combined with Joel Vinicius but between the two of them, they couldn't find the net.
Just before the half hour mark, Quang Hải was given a chance on the edge of the box, but he failed to find the net with his trademark left foot.
On the 41st minute Pape Omar tried his luck from long range after stealing the ball in the centre of the pitch, but he couldn't find the target.
Ten minutes after the break, Omar got into a good position on the right. His cross was met perfectly by Chung who headed into the net.
A collective sigh of relief could be heard across Hà Nội as the prize was within their grasp.
With the seconds ticking away, the homeside nearly spoiled the party but Hồ Khắc Ngọc's effort struck the crossbar.
It was too little, too late and when the final whistle blew, the visitors celebrated.
Speaking after the match, Hà Nội FC's Thành Chung, the "hero" of the match who scored the only goal and also the third in two matches to help his team win the V-League early, said: "My feeling now is that I'm so happy and excited to be the only scorer of the decisive goal to help Hà Nội FC win. The most important thing is that we have upheld our team spirit during the whole match. We all try our best to accomplish the target that we have set up and move forward to the next round."
"For me, hardship comes every year to my team. We all have to try on each front. We all also try to support each other to finish our plan. This V-League championship will motivate me to move towards the next goal. There are two more rounds so we need to conquer them all," said Chung. — VNS