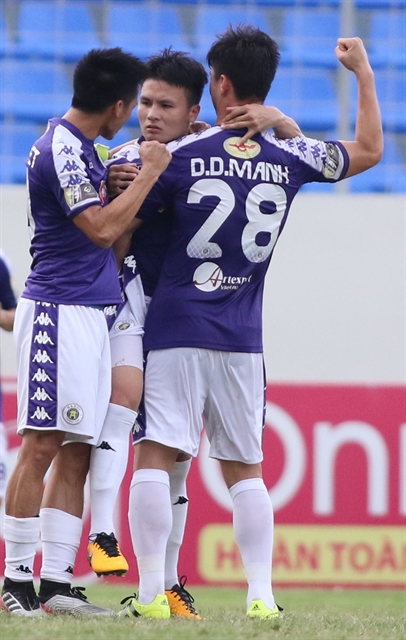 Hà Nội's Nguyễn Quang Hải (centre) and his teammates celebrate after their win over SHB Đà Nẵng in a previous V.League match. Hà Nội will play Nam Định today on home ground. Photo of VPF
Football
HÀ NỘI  Hà Nội FC can extend their lead at the top of the V.League 1 if they can beat Nam Định today on home turf.
Due to Hà Nội's AFC Cup schedule the match has been delayed about two weeks from August 25 to today.
The hosts are heavy favourites over their local rivals, however Nam Định have caused the capital side plenty of problems in recent years.
Since their return to the top flight last season, Nam Định have notched a win, draw and defeat against Hà Nội.
Earlier this season, they stunned the defending champions 2-0 at the Thiên Trường Stadium.
Hà Nội's coach Chu Đình Nghiêm also faces some selection dilemmas.
His side had seven players called up for the national team's 0-0 World Cup qualifying draw with Thailand last week.
They returned home unscathed, but fitness is still a concern.
"My concern is that they are exhausted after many matches. Apart from local tournaments, my players had to compete in the AFC Cup and then more than half of our team is in the national team. The busy schedule has strongly affected their strength for the Nam Định match," Nghiêm said.
"If we can't beat them we will face a big problem in our efforts to defend our title."
Nghiêm is also missing star fullback Đoàn Văn Hậu, who has moved to the Dutch league's SC Heerenveen on loan.
Despite these concerns, Hà Nội are in good form, having won in the AFC Cup inter-zone semi-final and their last three V.League outings.
They lead the V.League 1 with 43 points, two more than runners-up HCM City with one game in hand.
Meanwhile the visiting side's coach Nguyễn Văn Dũng has asked his players to focus on defence to bring at least one point home.
They will be supported by more than 3,000 fans living around the city as well as those coming from Nam Định Province.
Nam Định are in poor form, without a win in three matches. They are ninth in the table on 27 points, just two off the relegation playoff spot in 13th.
The visitors are one of two teams, alongside SHB Đà Nẵng, who have yet to win away this season, while Hà Nội have yet to lose at the Hàng Đẫy Stadium this year. VNS