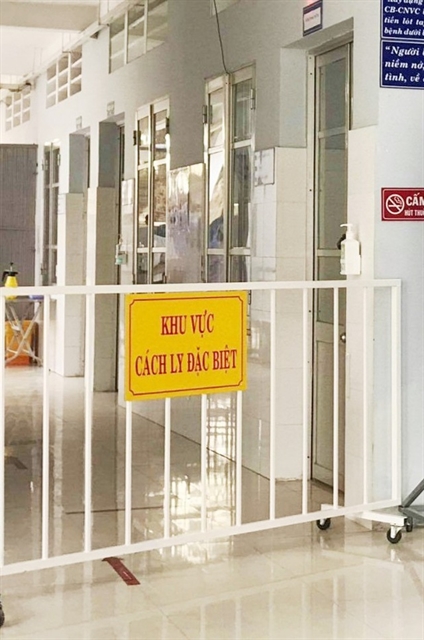 The quarantine centre for COVID-19 patients at the Bạc Liêu Province General Hospital. — Photo laodong.vn
BẠC LIÊU — Four people connected to COVID-19 patient 275 tested negative for SARS-CoV-2, said Bùi Quốc Nam, director of the Bạc Liêu Department of Health and also deputy head of the provincial steering committee for COVID-19 prevention and control.
Earlier, the Bạc Liêu General Hospital discovered a vendor who was in contact with patient 275, who is undergoing treatment at the provincial general hospital.
At 5.30pm on May 16, the vendor Trần Khánh Vui, who works as a vendor in the hospital, went through its quarantine centre. Patient 275, 33, from Hải Dương Province, asked Vui to help him buy cigarettes and water.
The centre's security camera showed that the two were in contact several times, about five minutes each time and both of them wore face masks.
When the case was discovered, the provincial steering committee on May 19 brought Vui, his wife and a child, and a man who had drunk with Vui to a quarantine centre and sent their samples to the HCM City Pasteur Institute for tests.
Nam said that with the test results, Vui's home in Huế Village, Ward 2 in Bạc Liêu City would not be quarantined. Students of the Kim Đồng Primary School in Ward 3, Bạc Liêu City, where Vui's child studied, would not have to be absent from school.
After the case, the provincial steering committee will improve security work, set up more fences and install more cameras around the quarantine centre. — VNS