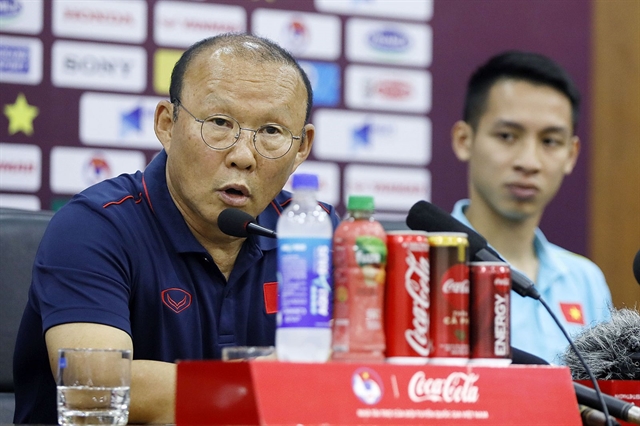 Park Hang-seo speaks at the Việt Nam vs Malaysia press conference in Hà Nội on Wednesday. Photo courtesy of VFF
HÀ NỘI — National coach Park Hang-seo has forgotten Việt Nam's result against Malaysia in the past to focus on their match at the 2022 World Cup qualifier today.
Việt Nam won two and drew one in the last three meetings against Malaysia, including their AFF Cup final victory last December. However Park said past victories offered no advantage.
Speaking at a press briefing yesterday in Hà Nội the South Korean coach said through an interpreter: "I do not care about the head-to-head result. The past is in the past. I cannot ensure 100 per cent but we can win the match tomorrow."
He also confirmed that Malaysia were much different today than in previous games.
"Malaysia are stronger as they added naturalised players in their team. Their playing style is more stable and safer. The midfielders are also better," said Park, adding that forwards No 20 (Syafig Ahmad), 13 (Mohamadou Sumareh) and 11 (Safawi Rasid) could make breaks for the visitors while the right wing of Malaysia was very strong.
Midfielder Đỗ Hùng Dũng also spoke with the press.
Dũng and his teammates of Hà Nội FC joined the national squad for several days after returned from the AFC Cup match in North Korea.
Hà Nội players have competed in three different competitions this season. However Dũng was confident for the World Cup match.
"Yes, we have to play a lot but we have been given good care. We are really fine. I myself think the importance here is our good spirit which will help overcome tiredness," said Dũng.
"In the coming game, we have to face naturalised players who are not from Southeast Asia. They will be our challenges. But Park will adjust and we will make it," he said.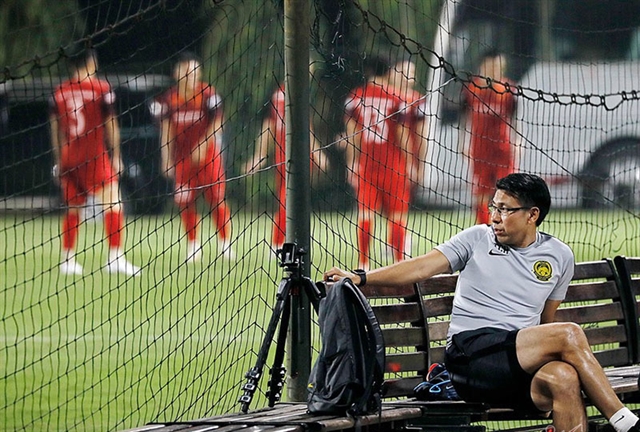 Tan Cheng Hoe watches Vietnamese side practising to prepare for the World Cup qualifying match. Photo vietnamnet.vn
Opposition coach Tan Cheng Hoe also shared same opinion with Park over the past meetings.
He said: "In my career with Malaysia I lost twice at Mỹ Đình. I respect Park as he is working well with Việt Nam. But it is nothing to say prior to the game. Everything can be changed. I am really optimistic and looking forward to good result tomorrow."
Malaysian players worked hard to improve physique and tactics for the game.
"Malaysia prepared well for the World Cup qualifiers. We are better than the 2018 AFF Cup final and we are excited to play at Mỹ Đình," he said.
Tan said Việt Nam had hometurf advantage and supporters. But Malaysia also had their pluses such as a 6-0 win over Sri Lanka and all of his players including three naturalised ones were in their peak.
"We look toward to a beautiful game and great result tomorrow. We want to go further at the World Cup qualification", said Tan.
Asked about his feeling when coming back to Việt Nam, striker Ahmad said: "I am happy to be in Hà Nội again. My teammates and I were familiar with Mỹ Đình's field.
"Việt Nam are tough and in good shape, so the match's gonna be difficult but we expect to bring point home."
The 24-year-old Ahmad scored goals in three recent matches of Malaysia. — VNS