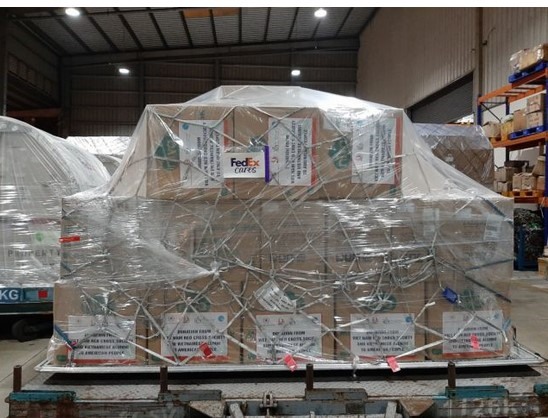 FedEx Express ships thousands of medecial masks to the US. — VNS Photo Courtesy FedEx Express
HCM CITY — Express delivery company FedEx Express has helped the Việt Nam Red Cross Society ship for free thousands of medical masks to its US counterpart.
They were donated by the NGO and the Việt Nam-US Alumni Club-Hà Nội to help Americans cope with the COVID-19 pandemic.
The American Red Cross maintains a limited inventory of personal protective equipment for disasters response. 
The president of the Việt Nam Red Cross Society, Nguyễn Thị Xuân Thu, said: "The donation is a small contribution compared to what is needed in the US, but there is so much love behind every one of those masks. The gifts show the solidarity and friendship between Vietnamese and our US counterparts."
Hardy Diec, managing director of FedEx Indochina, said: "During these extraordinary times, the actions of everyone and every sector of society matters greatly.
"At FedEx Express, we … will continue to work with our nonprofit partners and stakeholders in fighting this public health challenge."
The company has been working with nonprofit organisations around the world to deliver medical and protective equipment to countries in need.
In April, in co-ordination with DuPont and the US embassy in Việt Nam, it had shipped more than 450,000 protective suits from Việt Nam to the US.  VNS