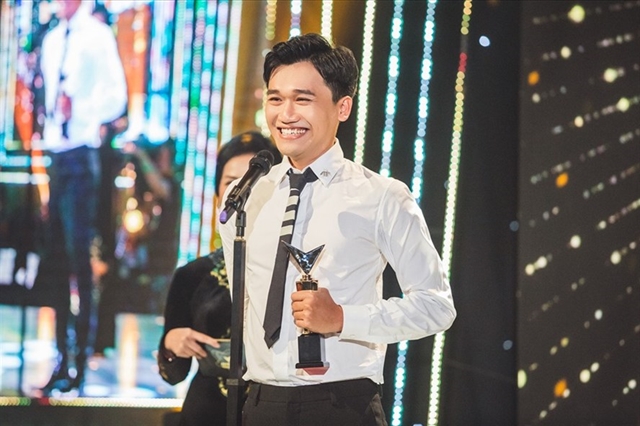 Artist Xuân Nghị at the VTV awards ceremony. Photo vtv.vn
HCM City-based Xuân Nghị won the Impressive Actor award at the VTV Awards 2020. His role in Nhà Trọ Ba Lăng Nhăng (Balanha Guesthouse) helped him beat out four others to win the award. 
Lao Động (Labour) newspaper reporter Hà Phương spoke with Xuân Nghị about the award and his career. 
The television audience saw your tears when you won a VTV award. Is this award a milestone in your career?
I couldn't sleep because of the overwhelming emotions in my thoughts. When I spoke at the awards ceremony my heart was beating fast and I could not control my emotions.
I cried and they were tears of happiness which I've been waiting for. For an artist, it is very proud to be able to win an award because it is not only recognition but also a milestone for us to make efforts in the way ahead.
I want to send my sincere thanks to the panel and the audience who have always given their love and trust to me and the other artists.
The award means that I have made an impression on the audience. This is the most meaningful. I think that my role in Balanha Guesthouse has reached viewers at different ages and left a strong impression. 
The series is the journey of three young men to start up a business. During the journey, they all encounter problems with family and love. They have the stumbles of youth which make them grow up. 
This theme is familiar to many families. The series is suitable for all members of a family. They can watch it and discuss it together. This is an encouragement for the film crew. 
Is this award pressure or more motivation for you?
It is both pressure and motivation for me. I always think that if I can overcome the pressure success will come to me in the future. Success and pressure go hand in hand.
The award will continue to ignite the passion encouraging me to make efforts in my career in response to the audience's applause. 
The leading role in Balanha Guesthouse won you the award. Will you be successful with other roles in the future?
People want to surpass themselves. My role as Mr Cần Trô in the series Ngày Ấy Mình Đã Yêu (The Day We Fell in Love) in 2018 made me popular. I thought I should have another role to escape Mr Cần Trô.
Director Khải Anh gives me a second chance. He also directed The Day We Fell in Love. 
Opportunities will not come to everyone and seizing opportunities is seizing success. My career is not long but it is not too short. I think I can be successful in future. 
Viewers said that they see your real personality in your role in Balanha Guesthouse. Do you agree?
When I accepted the invitation from director Khải Anh I was really excited and worried. The simple reason is that if I joined the film crew I would have to give up lots of work in HCM City. I had to spend a few months in Hà Nội. 
I decided to fly to Hà Nội. Luckily, my choice was right. 
If viewers see my real personality in my role I have to thank the director from the bottom of my heart. He is a talented director and he always supports and encourages artists to be creative. 
Those who have watched the series and met me will have the same feeling that there are common points between my role and me.
Where did your passion for acting come from?
When I was small I liked watching gameshows on television such as Gặp Nhau Cuối Tuần (Weekend Get-together) and Gặp Nhau Cuối Năm (Year-end Get-together). 
I wrote in my diary about my dream of performing with veteran comedians like Xuân Bắc. I liked to make fun of my friends in school. I wanted to spread positive energy. 
At the age of 15, I performed at a city festival about drug prevention. I was awarded two Certificates of Merit to recognise my skill. It gave me more belief that I was suited to acting. 
I failed to enter HCM City College of Theatre and Cinema twice. But I did not give up my dream. I found an opportunity in Hồng Vân Theatre where I had my first acting lessons.
What do you want now?
At present, my life has changed slightly. Frankly, the thing I want most now is to have a day off or simply sleep with no alarm.
I am busy with work and I don't have time for my self or my family. I want to have a spare day reading a book, watching a movie, listening to music or playing with my niece. However, my responsibility and that of many other artists is to perform in response to the audience's applause. That is all artists have to do. 
You have said that you are grateful to your teachers such as veteran artists Hồng Vân, Hữu Châu and Minh Nhí. What are their roles in your career?
They are my teachers supporting me at the beginning not only in my career but also in my life. I used to be hurt when artist Hồng Vân spoke straight to me about my faults. 
I learned that she wanted me to mature and I apologised to her. It was a great lesson for me and I always keep it in mind for my work. VNS