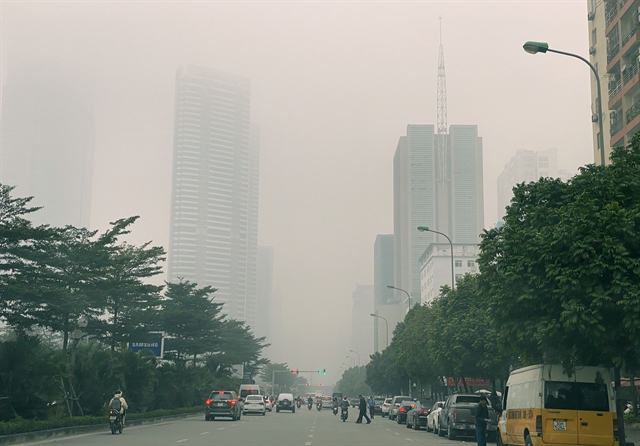 Thick haze blankets Hà Nội's Dương Đình Nghệ Street on Tuesday. — VNA/VNS Photo Việt Thanh 
HÀ NỘI — Việt Nam does not have enough capable air quality tracking systems to protect people from air pollution, an expert has said.
President of Việt Nam Clean Air Network Hoàng Dương Tùng made the warning at a policy dialogue on Tuesday on the economic cost of air pollution.
According to Tùng, the country's economic engine HCM City, despite a recent drastic drop in air quality, does not have a single automatic air quality tracking station.
Hà Nội lacks systems which can show comprehensive data on air quality in the city centre and neighbouring provinces.
Vehicles are estimated to contribute 30 to 50 per cent of urban emissions. However, as no proper research on pollutants has been published, Việt Nam has not developed a priority policy to limit personal vehicles.
From 2019, the country's fuel tax will rise to the highest level of VNĐ4,000 (US$17 cents) per litre for gasoline and VNĐ2,000 ($8.5 cent) per litre for diesel. The tax will bring VNĐ57.3 trillion ($2.4 billion) each year to the State budget but the money will not go directly to environment protection activities.
Environmental protection accounts for only 1 per cent of Việt Nam's State budget expenditure, while air pollution alone cost the country up to 5.64 per cent of its GDP in 2018.
Air pollution costs Việt Nam from US$10.82 billion to $13.63 billion per year, according to research by the Hà Nội-based National University of Economics (NEU).
NEU lecturer Đinh Đức Trường said the soaring air pollution was a market failure.
"Air pollution is an externally negative phenomenon affecting buyer decision process and at the same time increasing production costs. Instead of consuming goods which will improve their living quality, people have to spend more on gadgets to protect themselves from unhealthy air," he said.
According to Trường, as air is a public good, meaning all individuals have to use it without paying for it, many companies tend to avoid investing into emission treatment systems to reduce expenses, leading to people not gaining enough insight into air quality, emerging hazards and how human health is impacted because of exposure to air pollution.
"Only when information is provided in a timely and accurate manner can people perform their supervisory roles and better understand risks," he said.
Trường recommended accelerating green finance, investing in innovative start-ups and enhancing economic reforms to reduce air pollution.
Nguyễn Thế Chinh, head of Institute of Strategy and Policy on Natural Resources and Environment, emphasised the combination of economic and policy mechanisms to raise the awareness of companies to help them earn better profits by sustainable manufacturing.
"It is easier to talk about a green economy than making a switch from an economy heavily depending on natural resources. I think we should start considering imposing taxes on pollutants rather than fuel to encourage people to reduce their carbon footprints," said Chinh.
The 2018 Environmental Performance Index published by Yale University put Việt Nam at 132nd place of 180 countries. In terms of air quality, the country stood 159th.
On Tuesday, Hà Nội was once again hit by filthy air with the air quality index at very unhealthy levels. — VNS