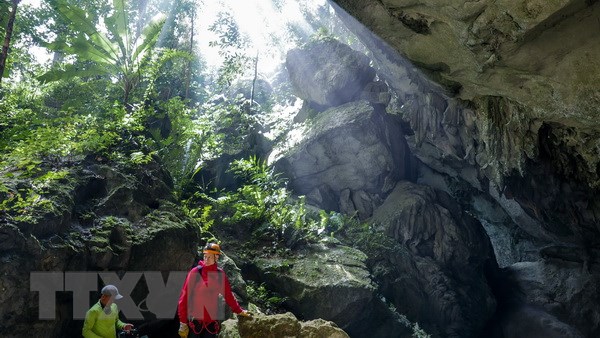 Sơn Đoòng Cave in the central province of Quảng Bình opened to tourists in 2013 and has become a top adventure destination in Việt Nam. VNA/VNS Photo
HCM CITY — Oxalis Adventure Tours has been granted exclusive rights to accompany adventure seekers to Sơn Đoòng, the world's largest cave, located in central Việt Nam, for up to 10 years.
Oxalis is the only private company licensed to explore Sơn Đoòng. Quảng Bình Province authorities approved tours from now till 2030. Earlier, the licence was only given annually.  
The province requires the tour operator to achieve economic efficiency and ensure tourist safety while promoting Sơn Đoòng, a fast-emerging tourist destination.
Due to limited space, registration for Sơn Đoòng tours must be made well in advance. According to Oxalis, 570 slots are available for 2020. 
A four-day expedition costs US$3,000.
Quảng Bình's government recently increased the number of tourists allowed to visit the cave over a one-year period from 640 to 900. — VNS