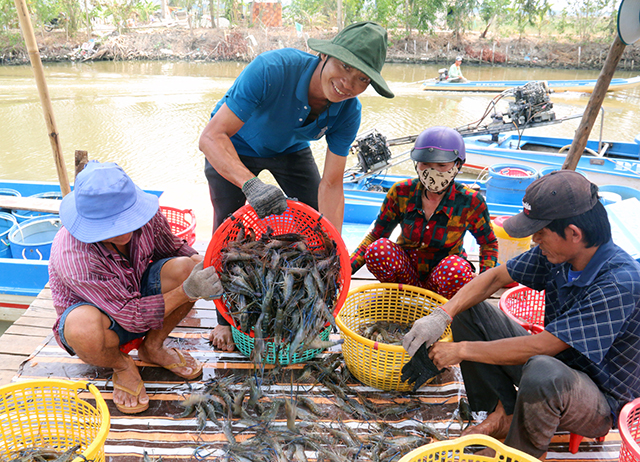 China would strengthen management fresh and frozen foods, including seafood, pork, beef and lamb to ensure food hygiene and safety. — photo kinhtenongthon.vn
HÀ NỘI — The Consulate General of Việt Nam in Guangxi Province, China and the Asia-Africa Market Department have warned local businesses that Guangxi is carrying out a number of measures to strengthen control of food origin and quality, according to the Ministry of Industry and Trade (MoIT).
Therefore, the ministry recommends local businesses and households producing agricultural and seafood products exported to China to enhance management of quality for their exports.
They should also coordinate with import partners in China to ensure that their export products meet China regulations on quality standards, quarantine, food safety and traceability for import goods, it said.
The enterprises need to actively monitor market information to regulate volume of export goods transported to border gates, thereby contributing to reducing risks and time during implementing customs clearance for goods at border gates.
The Consulate General of Việt Nam in Guangxi Province said Guangxi is strictly managing goods that are consumed at markets and supermarkets as well as strengthening inspection of certificates on quality standards and origin and procedures relating to purchasing agricultural products there.
Guangxi bans trading and storage of foods that do not meet food safety standards and require quarantine certificates from China customs for imported food products.
This province would strengthen its management of fresh and frozen foods, including seafood and seafood products, pork, beef and lamb, to eliminate disease risks from those products, reported toquoc.vn.
Dongxing City, China, sharing the border with Móng Cái City, Quảng Ninh Province, is also carrying out inspections of the origin and quality of seafood and meat products at agricultural markets, supermarkets and hotels.
That would affect Vietnamese farm produce exported to this market, according to the ministry. — VNS