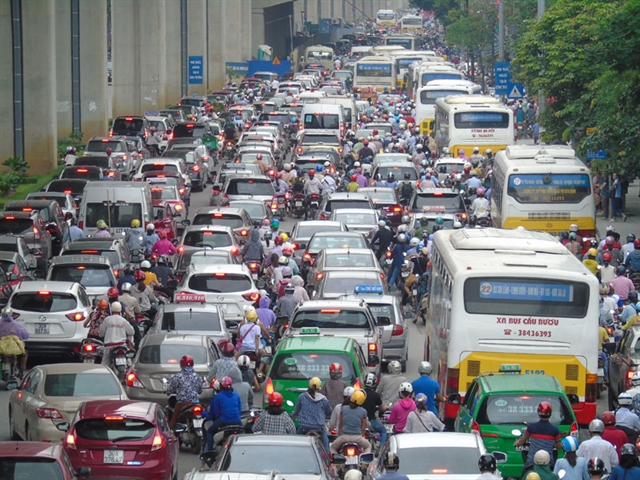 Rush hour in Hà Nội. Total car sales volume in 11 months of this year gained 14 per cent on-year to more than 289,000 units, according to VAMA. — Photo kinhtedothi.vn
HÀ NỘI — Car sales in the final months of the year have not seemed to pick up despite companies' efforts to lower prices and increase promotions to boost market demand.
According to the Vietnam Auto Manufacturers' Association (VAMA), sales volumes of member companies in November totalled more than 29,800 vehicles, up 3 per cent from October but down 3 per cent year on year.
The figure does not include sales records by international brands such as Audi, Jaguar, Land Rover, Mercedes-Benz and Volkswagen as well as some of domestic firms such as VinFast and TC Motor as those companies have not yet published their records.
VAMA reported that, by the type of vehicle, sales volumes of consumer vehicles was up 4 per cent on-month to 22,300 units and sales volumes of commercial vehicles slid 0.3 per cent to more than 7,200 units.
By the origin of the product, sales volumes of domestically-assembled cars gained only 1 per cent on-month in November to nearly 16,600 vehicles while sales volumes of imported cars increased by 5 per cent monthly to 13,250 units.
In 11 months, VAMA members sold a total of more than 289,000 cars, up 14 per cent year on year. Of the total, sales volumes of consumer vehicles jumped 23 per cent while sales volumes of commercial cars dropped 3.9 per cent year on year.
Car firms, namely Toyota, Mazda, Kia, Honda and Mitsubishi, have failed to boost market demand despite offering plenty of promotions, discounts and support worth hundreds of millions of đồng to buyers.
According to business insiders, one of the main reasons behind the drag on car sales is the rapid growth of the number of vehicles in big cities, which causes air pollution and forces many people to abandon motorbikes and use public transport.
The auto market may get better at the end of the year as people would want to buy more to prepare for year-end holidays after receiving bonuses. — VNS