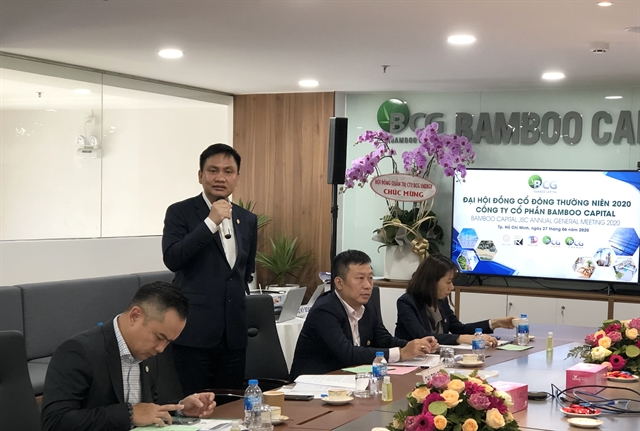 BCG's annual general meeting in HCM City on June 27. — VNS Photo
 HCM CITY — Bamboo Capital JSC has set revenue and after-tax profit targets of VNĐ1.913 trillion (US$82.2 million) and VNĐ184.2 billion ($7.9 million) this year, 24 per cent and 31.1 per cent higher than last year.
The targets were approved at its annual general meeting in HCM City on June 27.
The meeting also approved several other proposals, including an 8 per cent dividend for 2019 and the average annual dividend rate from 12 per cent for 2020-24.
Speaking at the meeting, Nguyễn Thanh Hùng, BCG's deputy general director, said this year BCG would continue to focus on four key sectors: construction, real estate, energy and commercial activities.
BCG will also speed up completion of its existing real estate projects, including Radisson Blu Hoi An and King Crown, to hand over to customers.
At the same time, it is in the process of completing legal procedures to begin construction and sales this year on many projects such as the Casa Marina resort project phase 2 in Quy Nhơn which consists of 160 five-star villas, Capri resort and condotel project in Phan Thiết with .
36 villas in phase 1, King Crown Infinity premium apartment project in Thủ Đức, and Cồn Bắp tourist resort complex in Hội An.
In the renewable energy sector, it aims to develop at least 330MW of solar power on land, and 50 MW of rooftop solar power and 50MW of wind power in Sóc Trăng this year.
BCG Energy will implement an M&A deal for renewable energy projects to achieve a total generation capacity of 2GB of electricity in the 2020-22 period.
Phạm Minh Tuấn, a member of the board of directors of BCG, said BCG aims to become a leading renewable energy development company in Việt Nam.
In addition, BCG plans to enhance production of high-quality products for export such as coffee and cassava starch.
Nguyễn Hồ Nam, BCG's chairman, said revenue and profit from 2021 will increase sharply thanks to real estate and renewable energy projects, ensuring an average annual dividend expectation of 12 per cent or above.
BCG achieved impressive business results last year, with its consolidated revenue and after-tax profit up by 41.4 per cent and 1,141 per cent over 2018 to reach VNĐ1.576 trillion ($67.78 million) and VNĐ140.5 billion ($6.04 million), respectively. — VNS