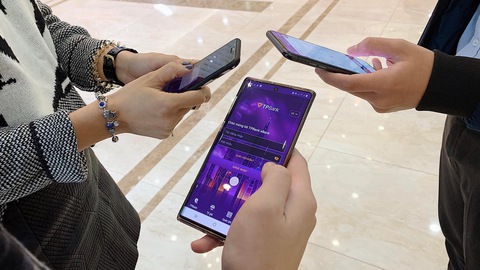 Customers use a banking app. To promote digital economy, banks should find way to quickly bring ordinary users to become digital customers. — Photo vneconomy.vn
HÀ NỘI — The COVID-19 pandemic has caused a serious effect to the economy, but it has helped accelerate the race for banks to go digital.
With many people looking for new options to deal with their financial affairs, digitalisation of services and e-payments are becoming crucial.  
Vũ Tiến Lộc, chairman of Việt Nam Chamber of Commerce and Industry (VCCI) told an online forum held in Hà Nội yesterday there can be positives to take from the pandemic.
"COVID-19 has been a catalyst that helps Việt Nam accelerate digitalisation of the economy, businesses, banks as well as e-commerce," Lộc said.
Statistics showed the country now has 70 credit institutions and intermediaries unit such as E-wallets providing payment services online and through cell phone apps. The total value of digital financial transactions topped VNĐ7.3 quadrillion and 300,000 transactions via mobilephone so far.
Although there has been progress building a legal corridor for digital payment services, there were still obstacles in place. These have deterred digital payments from expanding quickly and easily to customers who prefer convenience, he said.
The Decision No 645/QĐ-TTg on the overall plan of the national e-commerce development in 2021-25 period targets to have 55 per cent of the country's population shopping online and 50 per cent of small-and-medium sized enterprises having business activities on e-commerce floors by 2025. The targets required determination from firms and banks in promoting digitalisation and non-cash payment.
Phạm Tiến Dũng, director of the Payment Department under the State Bank of Việt Nam (SBV) said the current policies have lagged behind the technology development.
To promote digital economy, banks should find ways to bring ordinary users to become their digital customers. To support banks, the SBV recently drafted a regulation on opening accounts by the electronic system, Know your customers (eKYC). Banks must increase customer experience to make them satisfied with products and services.
The central bank was expected to submit a decree to replace the Decree No 101/2012/NĐ-CP on non-cash payment in June. This would see Việt Nam having a definition for electronic money and correspondent banks for the first time. This is the basis for banks to develop comprehensive digital banking.
Dũng said in recent years, many digital banks have developed strongly, helping to improve operational efficiency. For example, a traditional bank processing credit files for businesses takes about a week, the digital bank can disburse for businesses in around two hours by digitising all the data, using public credit appraisal technology.
"The growth rate of mobile banking in our country was 200 per cent, showing that we are growing very well. On average, there were 30-50 million transactions through the payment system," he added.
However, the SBV also said that the biggest barrier of digital banking development is still habit and a push is needed to change people's mindsets.
He said banks need to build a smart and diverse ecosystem to develop digital banking. In digital banking and payments, it is impossible to mention the co-operation between banks and fintech. Currently, 81 per cent of credit institutions choose the co-operation model between banks and fintech for mutual development.
In addition, banks must also strengthen integration, connectivity of infrastructure and applications of the banking industry with other industries and services to expand the digital ecosystem.
Sharing ideas, Huỳnh Ngọc Huy, chairman of  LienVietPostBank said the Government should quickly build a national database, especially personal identification for sustainable development of digital banks and e-payment system.
"When building digital banking, it is important to have cryptocurrencies and a national database of residents. If we can't connect to the national database of the population, we can't identify it. Therefore, the Government should immediately implement this because this is the root of the problem, through which we will apply a lot of things, including digital banking development," Huy said. — VNS