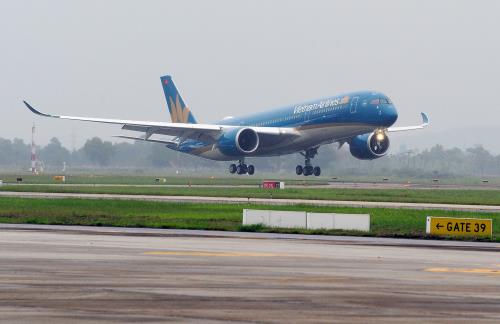 A Vietnam Airlines aircraft seen during a landing. Việt Nam is among a handful number of countries that have been able to maintain a perfect safety record for airlines for over two decades. — VNA Photo
HÀ NỘI — Sustainable development and a level playing field for all are two important objectives for Việt Nam's aviation sector, said policymakers and industry experts at a conference in Hà Nội on Wednesday.
The sector has maintained a 15.8 per cent per annual growth rate during the last 10 years, an impressive feat especially considering it has not suffered any incidents that resulted in lives being lost, said Deputy Minister of Transport Lê Anh Tuấn.
Tuấn said the industry has been a key driver for economic growth and has helped expand commercial and cultural exchanges between Việt Nam and the world.
Đinh Việt Thắng, head of Civil Aviation Administration of Vietnam (CAAV), said the sector's fast-pace development has offered consumers more travel options, benefits and improved quality of service. Việt Nam is among a handful number of countries that have been able to maintain a perfect safety record for over two decades now.  
Rapid growth, however, has created numerous difficulties and challenges for the industry, especially in keeping up with demand for infrastructure, said Vietnam Airlines CEO Dương Trí Thành, who heads Việt Nam's flag carrier and largest airline.
The CEO stressed the need for upgraded infrastructure and policies to encourage and attract investment from the private sector if the industry is to maintain its current growth speed.
Former head of the Central Institute for Economic Management (CIEM) Nguyễn Đình Cung said the Government must identify bottlenecks that have been hindering the aviation sector's faster growth.
"Overloaded and overcrowded Tân Sơn Nhất International Airport is the first major infrastructure bottleneck that comes to mind. Not only the airlines industry, it has hampered growth for tourism and other sectors," said Cung.
In addition, CAAV's boss Thắng pointed out infrastructure was not the only issue that requires immediate attention from policymakers.
Thắng said a major revamp to the country's current Civil Aviation Law is needed. Short of clear and effective development policies and strategies, other airports across the country will soon experience the same issues as HCM City's Tân Sơn Nhất International Airport.
There is still a large margin for growth in Việt Nam's aviation sector. By the year 2025, CAAV anticipates the industry must meet travel demands of 150-180 million passengers. The number of airlines operating in Việt Nam has remained at five, a figure that can be considered low in comparison to neighbouring countries such as Indonesia (12), Thailand (16), Malaysia (10), the Philippines (12) and Singapore (6).
"Even if we count the three pending proposals from Vinpearl Air, Kite Air and Vietravel Airlines, we only have eight airlines," said Thắng.
Việt Nam-US direct
At the conference, speakers also discussed the possibility and formation of a Việt Nam-US direct route.
While it's just a matter of time before a direct route between Việt Nam and the US becomes a necessity, the question is when and how such a route should be established, said Prof. Nawal Taneja, an industry expert.
Taneja said while established operators such as Vietnam Airlines possess more than enough of the technical capacity to fly direct, they must pay attention to brand-building and networking with partners in the US as well as to seek support from both governments.
He urged Vietnamese airlines to review their financial resources and analyse passenger data before thinking about setting up a Việt Nam-US direct route.
In addition, Vietnamese airlines must overcome many technical barriers to set up direct flights to the US, said CAAV's Thắng.
While the two governments have already signed an agreement to allow up to seven direct flights per week between the two countries, Vietnam Airlines is currently the only Vietnamese airlines that meet all the requirements to operate them.
"Security is a major issue. Airlines operating flights to the US must satisfy rigorous security requirements by US government agencies. Even Vietnamese airports are subject to US annual inspections to make sure they meet security standards," Thắng said.
The CAAV's boss also advised airlines to carefully consider the financial feasibility of a direct route as competition could be expected to be fierce for the world's largest aviation market, especially given the fact that there are already numerous connecting flights heading to the US from Việt Nam. — VNS