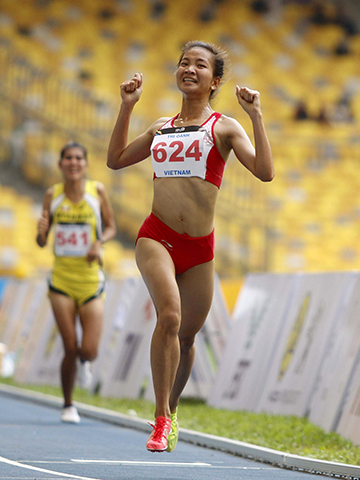 SEA Games champion Nguyễn Thị Oanh of Bắc Giang Province will compete at the Thống Nhất Speed Cup in HCM City early next month. — VNA/VNS Photo
HÀ NỘI — The Thống Nhất Speed Cup will be the first professional athletics tournament held in Việt Nam after the easing of social distancing.
The event on June 8-14 will be held in HCM City and is expected to lure top national athletes such as SEA Games champions Nguyễn Thị Oanh (Bắc Giang), Quách Công Lịch and Quách Thị Lan (Thanh Hóa), Lê Tú Chinh (HCM City), Nguyễn Thị Huyền and Đinh Thị Bích (Nam Định).
Athletes will compete in 31 categories ranging from running to throwing and jumping.
Organisers will also set up events for junior athletes.
The Speed Cup is one of the largest local athletics events, is normally held each April and is a chance for athletes to catch the eyes of national scouts. — VNS