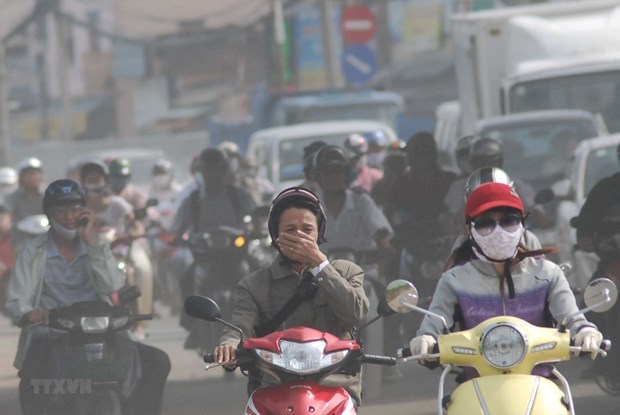 Air quality in Hà Nội is continuing to worsen. The Air Quality Index on AirVisual and PAMAir reached the purple and brown levels in some provinces of the north. — VNA/VNS Photo
HÀ NỘI — Air pollution continued to engulf Hà Nội and some northern provinces on Friday morning, according to reports of independent air quality trackers.
PAMAir and AirVisual reported the air quality index (AQI) taken from over 50 different air monitoring stations reaching the purple level (very unhealthy) at over 200.
In Hà Nội, the index was at 290 at 7am.
At other stations in provinces of Nam Định, Thái Bình, Vĩnh Phúc, Bắc Giang, Ninh Bình, Hưng Yên and Thái Nguyên recorded at 203-287.
The areas recording the highest index included Hưng Yên Province with AQI of 272, Bắc Ninh Province and Hà Nội's Hoài Đức District at 280.
Station in Nam Định Province was 282 and 287 at Hà Nội's Cầu Giấy District.
Especially, Đức Thắng station in Hà Nội's Bắc Từ Liêm District and PAM Farm-Vân Côn station in Hoài Đức District showed the AQI reached brown level (hazardous) at 319 and 324.
At this level, air quality is deemed toxic and poses a serious risk to the health. Everyone should avoid outdoor exertion. — VNS